Play the "Oaks"!
Green Oaks is a municipal daily fee golf course that is owned and operated by the Charter Township of Ypsilanti. Green Oaks is highly regarded for our well-kept fairways, undulated greens and abundant arbors. Our 18-hole golf course provides four different teeing options to fit various playing abilities.
Call or book your tee time online and experience our genuine service and value.
Course Information & Rules
All Players must check in at the Pro Shop.
Start at Hole No. 1 unless given permission at Pro Shop.
Maximum of 4 players per group permitted
Keep pace of play with the group in front of you.
Foursome pace of play should not exceed 4 hours 30 mins, for 18 holes.
Keep all carts at least 30 feet from Tees and Greens.
Replace Divots, Rake Traps, Repair Ball Marks.
Call "Fore" if in danger of hitting another player.
Allow faster players to play through whenever possible.
Local Rules
Ball hit over any fence is Out-Of-Bounds – Stroke and Distance.
Lakes and streams play as Water Hazard – One Stroke Penalty.
White Stakes Out-Of-Bounds on Hole No. 8.
Golf staff and on course ranger  is in charge of pace of play.
Golf Course Rating

&

Length
An evaluation of the overall difficulty of the golf course under normal course and weather conditions for the scratch golfer (An amateur player who plays to the standard of the stroke play qualifiers competing in the United States Amateur Championship). This figure is equal to the average of the better half of a scratch golfers scores. Slope rating is the USGA's mark that indicates the measurement of the relative difficulty of a course for players who are not scratch golfers compared to the Course Rating. The lowest Slope rating is 55 and the highest is 155. A golf course of standard playing difficulty has a USGA Slope Rating of 113.
| | Course Rating | Slope Rating | Yardage |
| --- | --- | --- | --- |
| Men's Back | 72.0 | 128 | 6,602 |
| Men's Middle | 69.8 | 122 | 6,105 |
| Men's Forward | 66.9 | 115 | 5,550 |
| Woman's Front (Red | 69.6 | 117 | 5,040 |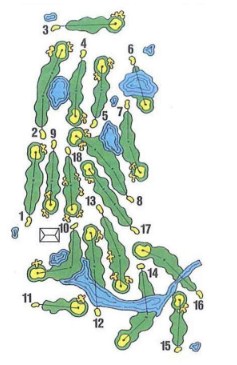 | Patron | Date | Hole Number | Distance | |
| --- | --- | --- | --- | --- |
| Rick Peer | 3/29/2021 | 15 | 162 | |
| Ashlea Clark | 5/2/2021 | 6 | 121 | |
| Ben Johnson | 6/2/2021 | 15 | 165 | |
| Lacy Horne | 10/11/2021 | 6 | 155 | |
| Don Nippa | 10/17/2021 | 15 | 149 | |
| Stan Spencer | 5/31/2022 | 6 | 152 | |
| Mike Score | 6/1/2022 | 11 | 134 | |
| Kaye McKinley | 8/26/2022 | 3 | 155 | |
| Lonnie Devall | 9/10/2022 | 11 | 136 | |
| Stan Spencer | 10/21/2022 | 11 | 133 | |
| Harold Owens | 5/6/2023 | 11 | 136 | |
| Inrique Harvy | 5/30/2023 | 11 | 165 | |
| Yasu Inugi | 6/7/2023 | 3 | 185 | |
| Ron DiMichele | 6/14/2023 | 14 | 315 | |
| Keith Osborne | 6/18/2023 | 6 | 150 | |